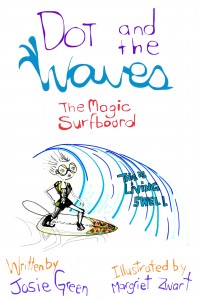 Dot, a young surf girl from England, moves with her mum to the small, dusty beach town of Santa Teresa, Costa Rica.  At first, Dot struggles to fit in to her new school and to make friends.  Until, that is, she meets Pollyanna Pocket, her dog and loyal sidekick.  The two friends soon learn that the lush forests of Santa Teresa and the ocean are filled with incredible friends and magical adventures just waiting to be discovered.  It seems that the creatures of the Land Above the Water and of the Ocean Deeps are keen to share what they know with Dot – that we are all connected, we are all one.  Dot is launched into a journey of self-discovery, as she learns to see the magic that surrounds her everyday.
On the night of the full moon, Dot creeps out of her house and into the forest.  She stumbles upon a magical, majestic Pochote Tree.  Here, at the Magic Tree, the creatures of the forest gather together to celebrate the full moon and to keep tabs on what the humans are up to.  Being included in such a ceremony is a great honor, but also a great responsibility.  Soon, Dot will be called upon to help her new friends.  But for now, she needs to get to school on time and to catch that perfect wave.
Get your copy now on iTunes, Amazon, or eBookit.